Aircraft maintenance access platforms are essential pieces of kit for an aircraft engineer to carry out their work whilst working at height safely. Widely adopted throughout the industry, they provide a safe, reliable, and versatile way to service and maintain an aircraft. Varying in size from small portable steps to full docking systems, which reflects the nature of the task, they are useful where longer work periods are needed, particularly on more in-depth C and D checks.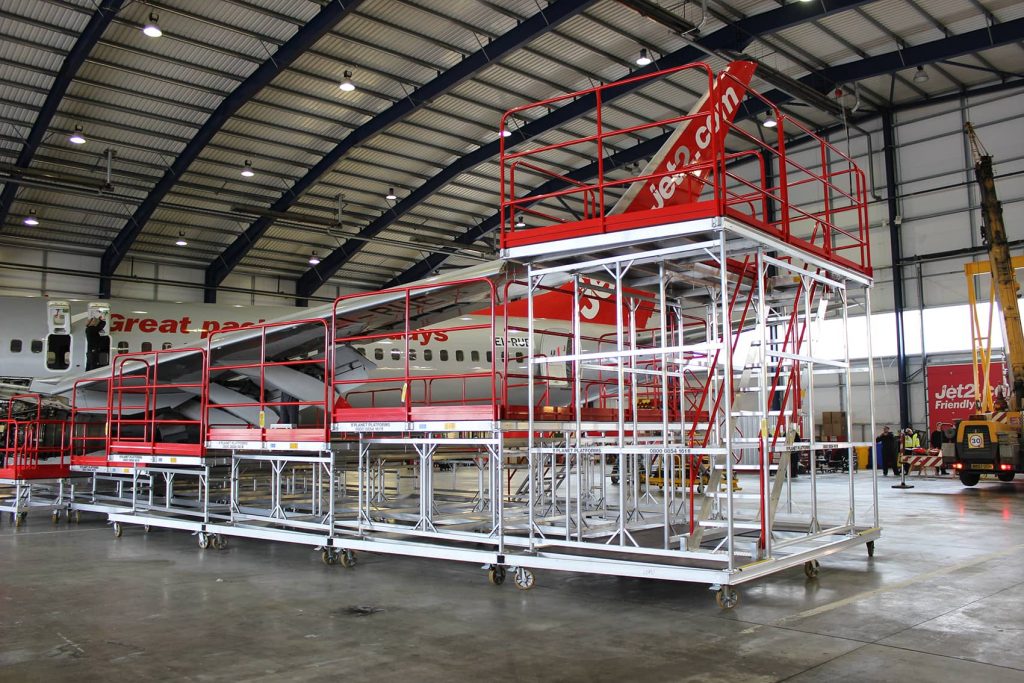 The importance of aircraft maintenance access platforms
Overriding is the need to give personnel a safe platform from which to work at height by mitigating the risks of a fall. To support this there are regulations enshrined in law but there is also the duty of care an employer should as a minimum always provide the correct work equipment. And finally, there is the increased wellbeing the user will gain by working safely and correctly at the height which ultimately brings better productivity.
What areas can be accessed using aircraft maintenance access platforms?
Essentially, all areas of an aircraft can be accessed, and our designs include Taildock, wing access, fuselage, cargo & passenger doors, engines, nose & windscreen and wheel wells and part of our aircraft maintenance access platforms range.
Empennage
Quite literally the highest point to reach on an aircraft, particularly with a T-tail configuration, our mobile Taildock systems can be quickly brought into service, with complete docking of this area easily achievable in under one hour.
Wing staging
These stepped or graded systems reflect the pitch of an aircraft's wings and being sectional, enables specific units to be placed into service or complete assemblies to cover the entire wing area. The terracing of specific areas gives the user a more ergonomic platform from which to work, helping to improve safety and productivity.
Fuselage
The main fuselage sections on commercial aircraft have little in the way of additional furniture. On military aircraft there can be supplementary items, such as defensive systems, that will need accessing. Here, our variable height hydraulic aircraft maintenance access platforms offer ideal reach capabilities, enabling maintenance teams to operate at different heights to accommodate the aircraft being either jacked or weight on wheels.
Doors
Including cargo, passenger, and crew, the doors on aircraft are varied and the reasons for access also differ from hangar to hangar. Our maintenance access platforms can simply be a means of access in and out of the aircraft or be used as a work platform, for example when checking the seals on larger doors.
Engines
Whether it's a jet or propeller powered aircraft, technicians require aircraft maintenance access platforms to safely reach these types of engines. If the aircraft is always going to be in the same configuration, then a fixed height platform works well. If this configuration can change at each maintenance check, for example, more fuel in the wings or if the aircraft is jacked, then our variable height aircraft maintenance access platforms accommodate these adjustments in height.
Nose and windscreen
Certain aircraft will have flight controls and avionics in the nose section and there will always be the need to access the wind and sidescreens for tasks such as wiper inspection and replacement. As this is the section of the aircraft where the profile changes very quickly having a maintenance access platform that contours the aircraft is essential.
Wheel well
Maintenance activities are not resigned purely to the hangar environment, they do occur when an aircraft lands, or is ready to take off, and these post and pre-fight checks will be conducted on the apron of the runway. Our wheel well maintenance steps are designed to be towable, so they can be quickly bought into service and the area around the main landing gear can be immediately inspected.
Ergonomics bring better safety and productivity
An aircraft can present to a maintenance hangar in several configurations. More fuel in the wings will mean the aircraft will sit lower to the ground. Raise it on jacks so the landing gear can be inspected, then the level at which to work increases. Being able to accommodate these different heights is crucial in keeping the working posture at the optimum level, helping to remove the need to overreach, reducing the chance of strains, keeping safety at the fore, and ultimately increasing productivity; our this is exactly what our aircraft maintenance access platforms range was designed to do.
Planet Platforms' preferred material for the manufacture of our aircraft maintenance access platforms is aluminium. Being lightweight and incredibly strong ensures the platforms are easy to move by the required number of personnel. Additionally, as it won't rust and is built to last, the return on investment is achieved more quickly.
Build into these platforms features such as graduated terracing to reflect different pitches on a wing, air, and electrical points to remove trailing cables and associated trip hazards then all tasks become much safer and more productive.
An access equipment manufacturer with a proven track record
When procuring such important and critical pieces of kit, such as aircraft maintenance access platforms, you need to be choosing a manufacturer with a proven track record. Planet Platforms, part of the Kee Safety Group, has been designing, building and maintaining aircraft maintenance access platforms for the past 45 years. During this time, we have acquired the experience, expertise, and knowledge to reassure our customers that when dealing with us they are doing so with a company that is at the very forefront of the access industry.