Planet Platforms has been manufacturing aluminium access platforms for the past 45 years. Over this time, we have learnt a thing or two about the advantages of using this material, knowledge that we are able to pass on as tangible benefits to our customers. When you come to think of it, aluminium is used extensively as a manufacturing material by many other industries, for example, the aviation sector, all of whom use these very same advantages.
Lightweight aluminium access platforms
Aluminium is about a third of the weight of steel. Whilst we do use steel for the manufacture of our access platforms, aluminium accounts for the remaining 95% and it being lightweight is the primary factor for its choice. Our platforms have a central theme from our customers in that they need to be agile and easy to manoeuvre. The fewer people who are needed to move them, then the better it is for productivity, with systems being brought quickly into service and equally placed back into storage when not needed. This dexterity is enhanced further by the low-resistance castors that we use on our aluminium access platforms.
Lightweight but strong aluminium access platforms
Another advantage of using aluminium for our access platforms is its strength and durability. This material can withstand heavy loads without deforming, even after significant loading over long periods of time.
Versatile and flexible aluminium access platforms
As well as being lightweight, aluminium is also durable and is the most flexible metal to work with. We can therefore make it into virtually any shape. It is easy to cut, drill, machine, and bend, the latter being particularly important to Planet Platforms, as we can make the handrails for our aluminium access platforms in-house using an electric bending machine.
The right profile for aluminium access platforms
The aluminium that we manufacture our access platforms from is supplied in many various profiles. The variety of these enables us to produce virtually unlimited designs. We can utilise the different thicknesses of profiles to use wider ones where more strength is needed and thinner ones where we might need to reduce the weight of the platform.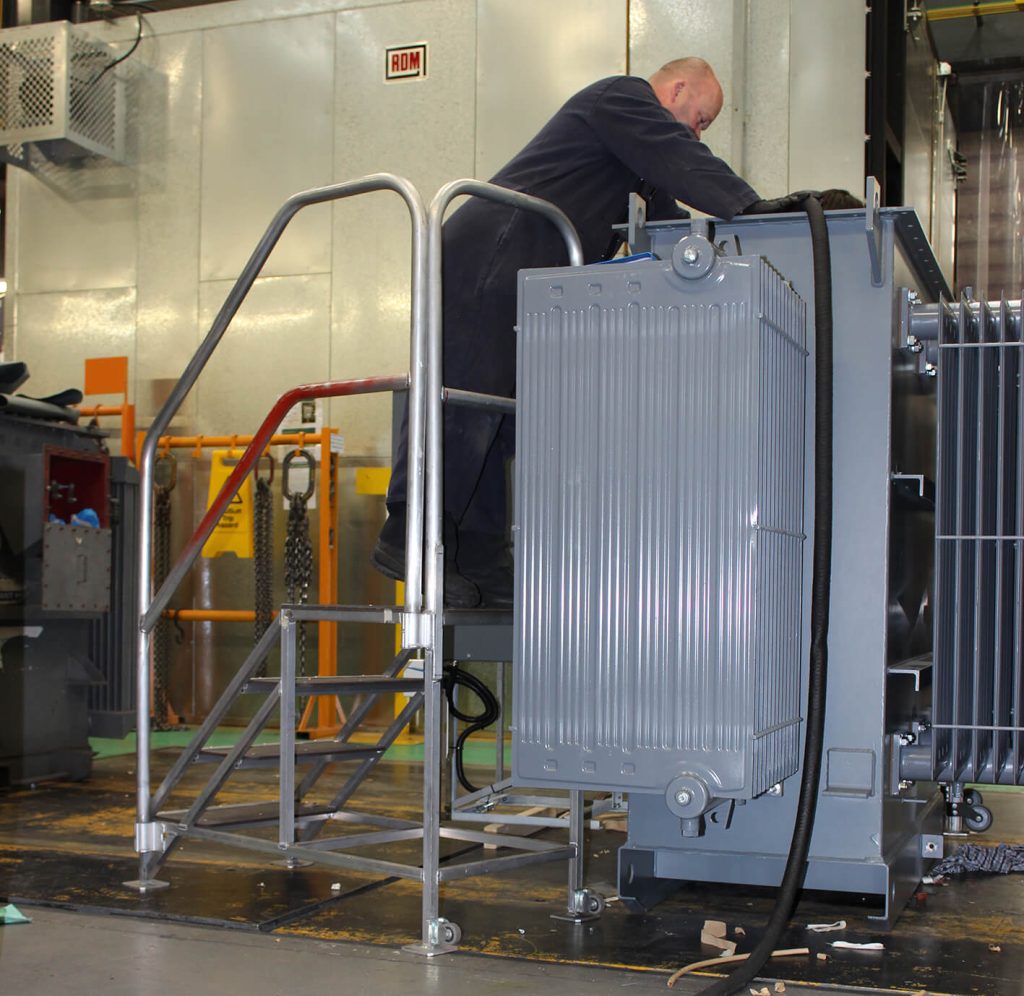 Corrosion resistant aluminium access platforms
Aluminium is a corrosion-resistant metal that naturally generates a protective coating. The coating formed is extremely thin and is generated when aluminium comes into contact with an oxidising environment. This protective aluminium oxide layer helps protect the surface of the metal from corrosion, so our platforms don't rust
Recyclable aluminium access platforms
Aluminium is 100% recyclable and during the recycling process, it retains all its original properties. In a time when the 3R's of reduce, reuse, and recycle play a prominent part in when we consider purchasing an item having one that is wholly recyclable is a crucial factor.
Long-lasting aluminium access platforms
When we build our aluminium access platforms, we build them to last and we're not just talking about a couple of years. Quite often the client specification will state a minimum of 20 years and we have no hesitation in committing to this timescale. When our platforms are correctly and regularly maintained, they can last for a very long time and we've seen that aluminium won't rust, which also helps with this longevity.
World-leading aluminium access platforms
As we are well into our 5th decade of manufacturing outstanding aluminium access platforms, when dealing with Planet you can be assured that you are engaging with a company at the very forefront of the access platform market. The knowledge, skills and expertise that we have amassed on this journey really is unrivalled, which makes us stand out from the crowd.