About Our PLatforms
Lightweight aluminium walkway and staging system in one versatile unit.
WHY USE AN ALUMINIUM WALKWAY?
Planet Platforms walkways provide a defined and secure route across the roof, keeping users safe from the associated hazards when working at height without the need for fall arrest personal protective equipment.
Thanks to its unique reversible design, Planet Platforms walkways can be joined end-to-end to form a continuous run or side-by-side to form a decked area. Suitable for interior and exterior use it offers unrivalled combinations and uses.
View Pdf
KEY FEATURES & BENEFITS
High strength aluminium construction
Clear on roof demarcation
Guardrail posts and handrails
Flexible modular design with spans up to 9 metres unsupported
Designed in accordance with BS EN14122 Part 2: Working Platforms and Walkways*
Slip resistant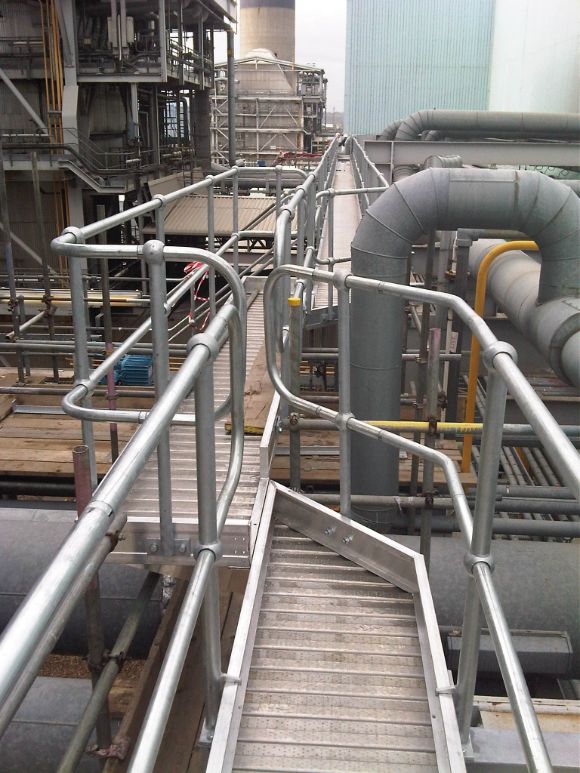 PLATFORM OPTIONS
Planet Platform walkways are available in standard modules and supplied in-stock for quick delivery and installation.
Standard deck length options are 4m, 5m, 6m, 7m, 8m and 9m. However, bespoke width and lengths are available to meet specific site requirements.
BS EN14122 Part 2: Working Platforms and Walkways states "When the walkway is usually subject to passage or crossing of several persons simultaneously, the width shall increase to a minimum of 1000mm.
What we do
Related Products
Fixed Height
Platforms
Planet Platforms developed Alutec, our bespoke range of aluminium access systems, platforms, and walkways, offering you the ultimate in safety for working at height.
View Platforms
Specialist Access
Systems
If you are looking for a specialist access platform that enables you and your teams to safely perform a number of working at height tasks, you have come to the right place.
View Platforms
Scaffolding
Towers
Modular in construction using only a small number of components our scaffold towers can be built in just a few minutes and being mobile, can move from area to area without the need to be dismantled.
View Platforms