Kee Step Platforms from Kee Safety are now part of the Planet Platforms product portfolio.
The roof area on buildings is where many of the utility supplies are to be found. Air conditioning unit ducting, pipework and conduits for cabling crisscross the roof, often passing over pedestrian routes of access. Stepping across these presents a trip hazard, standing on them risks damaging them and slipping from them, if they are wet or icy, and could potentially injure the worker.
Kee Walk Mini Step Platforms
For these small low-level situations, a Kee Mini Step Platform is the ideal piece of equipment to bridge the obstruction.
Manufactured using Kee Klamp galvanised steel or Kee Lite aluminium standard fittings, these Mini Steps are supplied in standard sizes that can be quickly installed to create a safe work area.
The Kee Walk Mini Steps can be used on membrane, concrete, asphalt, and PVC roof finishes.
Their use is not limited to the roof space on a building, as they can also serve a purpose in factories, warehouses, and other industrial plant settings.
Kee Step Platforms - Getting bigger
When the obstacle gets bigger Kee Walk Step Platforms provide good safe access. Built using the same galvanised steel or Kee Lite aluminium standard fittings, Kee Walk Steps cater for larger changes in level, roof, ducting and pipework, cable trays and roof parapets.
The step treads on Kee Step Platforms are manufactured from glass reinforced plastic, designed to sustain temperatures of -30 to +50 degrees C, meaning that they are suitable for virtually any environment. Additionally, they are slip-resistant and compliant with BS4592.
Just like the Kee Mini Steps, their use is not limited to the roof space on a building, as they can be used at ground-level industrial settings.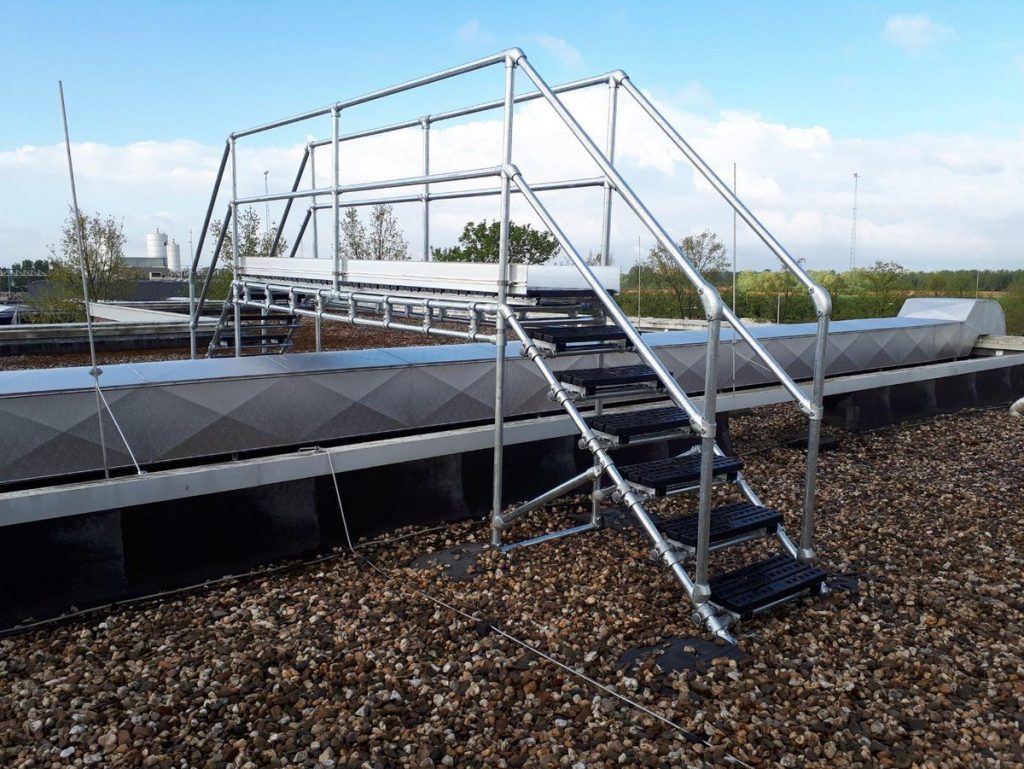 Step Compliance
Benchmarking our products against relevant directives is something that as a manufacturer we constantly aim to achieve.
Being able to prove that these products have been assessed to meet high health, safety and environmental requirements give our customers the confidence that when dealing with Planet Platforms they have a company that is leading the way.
The Kee Step platforms are designed to comply with current regulations and standards such as the Work at Height Regulations (WAHR2005) and EN:14122 parts 3 and 4, Safety of machinery – Permanent means of access to machinery.
Features of Bespoke Kee Step Platforms
Provide safe access over obstacles such as pipework and plant equipment
Easily accommodate changes in roof levels
Modular design
Available in galvanised steel or aluminium
Delivered as fully pre-built systems or partially assembled for minimum on-site disruption
Designed to EN: 14122
Benefits of Bespoke Kee Step Platforms
Quick and easy to assemble
Tailor-made to meet specific site requirements
Robust and durable solution
No welding or drilling required
Suitable for most roof types
Maintenance free
All access equipment should be inspected in accordance with the Work at Height Regulations. Bespoke Kee Step platforms would be covered by this regulation but in terms of maintenance, there is very little on them that needs to be maintained. The galvanised or aluminium finish means the fittings show very little deterioration over time.
Do you think that you need a Kee Walk Step Platform?
Kee Step Platforms come in standard and bespoke packages. Simply send us the following.
The height of the obstacle on both sides you are looking to step over.
The width of the obstacle you are looking to step over.
The angle of the roof or floor.
That is all that we need to send you your quote.