Planet Platforms
KEE GATE® The Self Closing Industrial Safety Gate

Find Out More
About Our Kee Solutions
Kee Gate® is a self closing safety gate designed for industrial use.
Each gate is spring-loaded and automatically closes behind the person who moves through it.
All Kee Gate® models are made from galvanised steel and can be cut down to size to fit into the required opening. They're built to meet the requirements of BS EN ISO 14122-3:2016 and comply with all HSE guidelines in protecting ladder access points, roof hatches, open voids and much more. 
Powder coated versions are also available in Yellow.
Kee Gate® is available in the following:
Single Self Closing Safety Gates

Double Self Closing Gates

Full Height Self Closing Safety Gates
Spring loaded gates automatically close behind the user

Single and double width gates

Performance tested for trouble free operation

Quick and easy to assemble

Adjustable - width can be cut to size

Can be used for external and internal applications

Galvanised steel or powder coated in safety yellow colour

Can fit different surfaces (round or square)

Retro-fits to existing structures

Comply with test requirements of EN 13374 Class A and EN 14122-3 and OSHA
What we do
Other Rooftop Safety Systems
Rooftop Walkways
A safe access solution consisting of walkway and guardrail which can be installed quickly and easily on a wide variety of roofs.
View Solution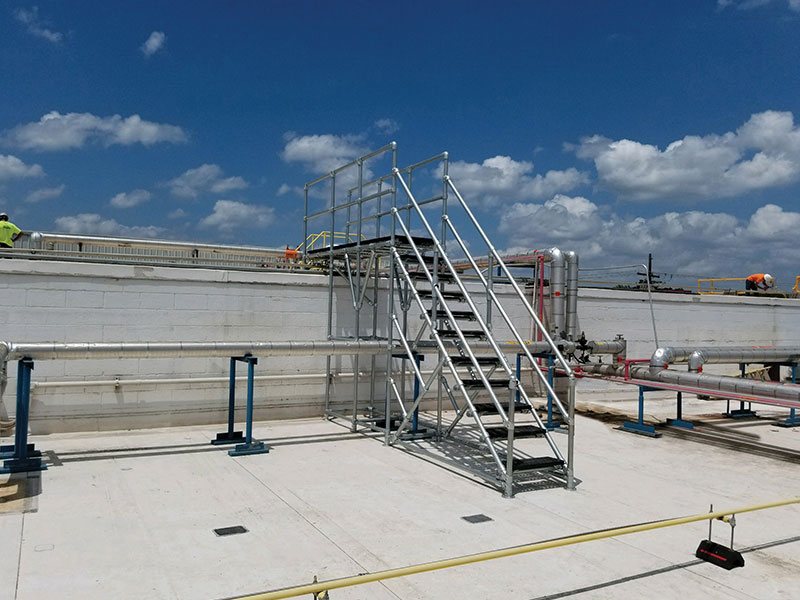 Rooftop Step Over Platforms
Providing a safe access solution where obstructions exist on a roof such as pipework, plant equipment and conduits.
View Solution
Skylight Protection
Kee Cover® is a modular and easy to install solution designed to cover skylights without blocking out light.
View Solution