Working at height occurs everywhere, even standing on a small step is classed as such. The logistics sector is no exception, and the logistics access platforms we manufacture help safe working at height in several ways.
The run-up to Christmas is an exceptionally busy time of year in the logistics and warehousing sectors. We have changed the way in which we shop, with many of us preferring to do our shopping online. The goods that we purchased still have to reach us and at some point, will transition through a distribution hub. Ensuring this is done as efficiently as possible, whilst maintaining safety, is where our logistics access platforms come to the fore.
Conveyor access platforms
A distribution hub is a highly automated environment that helps to move goods in and out of the facility at speed. Conveyor belts can often run 24/7 to meet this peak demand and if any of them should stop then backlogs can quickly occur.
Here our logistics access platforms have two main functions. Firstly, it is not unusual for goods to become stuck as parcels of different sizes present a real problem in keeping things moving. These blockages will need to be manually freed, which will mean someone has to work at height to free them. When we install these logistics access platforms it is typically done retrospectively and in response to an issue that has arisen over time.
Secondly, these logistics access platforms are needed to gain access to key areas of the infrastructure in order to routinely maintain them, which can be planned, or in response to equipment failure that will need to be fixed in the quickest and safest possible way.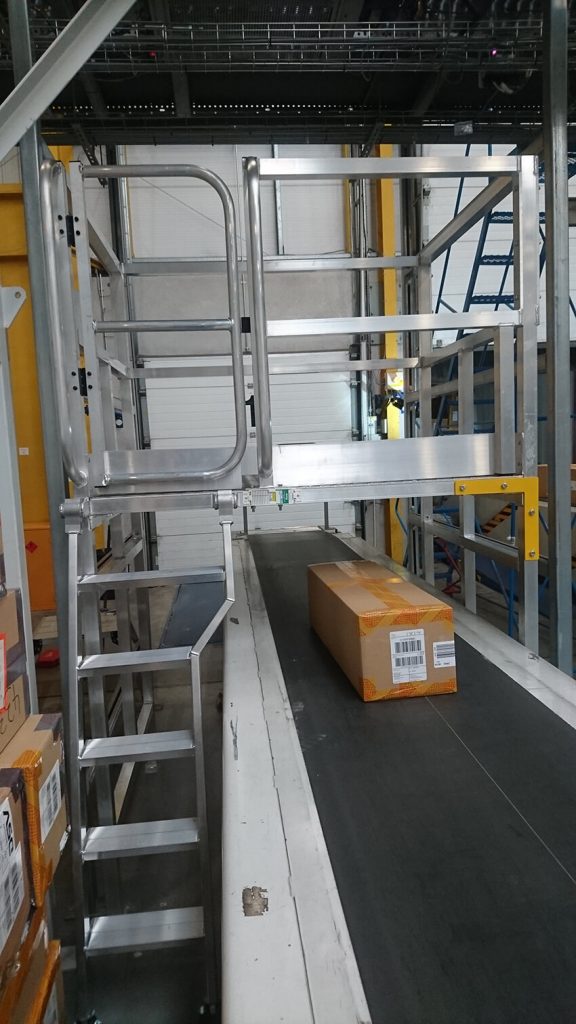 Pedestrian access platforms
The movement of goods is not the only thing that needs to be kept going. People too must move around the distribution hub and our logistics access platforms also help in doing this safely.
With conveyor belts, racking, and storage areas all contributing to a busy work environment moving around all of these obstacles can laboursome, time-consuming and dangerous as they have moving parts. Our logistic access platforms tackle this in two ways.
Firstly, at ground level, we manufacture logistics access platforms that help to traverse, for example, conveyor belts. These remove the need for personnel having to walk around the obstacle and citing them in key areas helps to speed up the movement of people.
Secondly, we can raise people off the ground with logistics access platforms walkways that can be several metres from the floor. Here we span over the hub floor and cross over any ground obstructions, moving people safely whilst working at height.
The Control of people, goods, and vehicles
The movement of goods and vehicles in and out of a distribution hub needs to be effectively managed, as this dynamic work environment can change daily. Being elevated helps managers to better coordinate the distribution of goods. Planet Platforms raised observation stands have been designed with this in mind.
Manufactured from lightweight aluminium with a rubberised anti-slip decking the platforms accommodate personnel, office furniture and IT equipment. Fitted with guardrails around the whole perimeter gives personnel a completely safe work area, and the fitting of forklift truck pockets enables the platforms to be quickly moved.
The benefits
Manufactured from aluminium - lightweight and incredibly strong
Bespoke designs for specific applications
Will not rust and suitable for outside applications
Many profiles giving greater design options
Mobile solutions that can be quickly brought into service
Designs in accordance with BS14122